Pedro Huichalaf
Of Counsel
Pedro Huichalaf has great experience in Telecom, new technologies and cybersecurity market regulation. Knowledgeable in both administrative and public sector, at government and congress level, with experience in bills and parliamentary management. He has participated in the development of public policies and in non-profit movements and organizations of civil society in the field of technology and telecommunications.
Ranked by The Legal 500 Latin America 2023 in TMT (Next Generation Partner).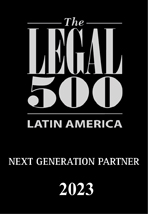 PROFESSIONAL EXPERIENCE
From 2008 to 2014 he was legal advisor in Telecommunications and Technology.
From 2009 to 2010 he was Official for the Undersecretary of Telecommunications, for the Management of the Telecommunications Development Fund. Between 2010 and 2011 he was legal advisor at the Digital Development Department of the Ministry of Economy and between 2011 and 2014 at the Legal Division of the Undersecretary of Telecommunications in the Ministry of Transportation and Telecommunications.
From 2014 to 2016 he was the Telecommunications Undersecretary of Chile, where he led, coordinated, promoted and fomented telecommunications development in the country.
From 2017 to 2018 he worked as an independent consultant, highlighting international consultancies (El Salvador Government) and talks in Colombia and Cuba. Later in 2019 he joined Magliona Abogados as of Counsel.
PUBLICATIONS
Pedro Huichalaf has spoken at multiple international and national conferences.
Co-author "Chilean Strategy 2030: Ideas for a National Reflection". Editor of the chapter "Digital Strategy" elaborated by the Chilean Council on Prospective and Strategy, 2017.
Co-author of the book "A Guide on Big Data Benefits for Public Goods". Editor of the chapter "Big data in the Chilean Public Management: opportunities for public policy management", elaborated by GOBERNA, Escuela de Política y Alto Gobierno del Instituto Universitario Ortega y Gasset de España, 2017.
Co-author of "Proposals for digital transformation in Chile, a look at 2030", elaborated by the Infrastructure Policy Council, 2019.
EDUCATION
Law, Faculty of Law, Universidad de Valparaíso, graduated with honors (2009).
Master (c) in Law and new Technologies, Universidad de Chile.
Diploma New Ways in Leadership and Policy Transformation, Instituto Universitario de Investigación Ortega y Gasset de España.
Diploma in Cybersecurity, Universidad de Chile.
ACADEMIC ACTIVITIES
"Ethics and Legislation" professor at Engineering Faculty, Universidad de Valparaíso (2012-2013). Currently he is professor in the Magister program Information Security at Universidad Mayor. Researcher at the Cybersecurity Research Center, Universidad Mayor and also professor at Engineering Faculty, Universidad Diego Portales.
LANGUAGES
Spanish and English.