PRACTICE
Her professional practice focuses on corporate, real estate and environmental law.
Recognized by The Legal 500 Latin America 2023 in Corporate, and M&A.
ACKNOWLEDGEMENTS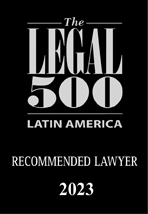 PROFESSIONAL EXPERIENCE
Karla joined Magliona Abogados in 2018.
PUBLICATIONS
"Relevant aspects of the distinction between special courts that are part of the judiciary and those that are not part of it", in Law Studies of the Judiciary: minutes of the Student Congresses of Law of the Judiciary, 2013 to 2016. Pp. 127-140.
EDUCATION
Law, Pontificia Universidad Católica de Valparaíso (2018).
Diploma in Environmental Law, Universidad de Chile (2019).
ACADEMIC ACTIVITIES
Between years 2011 and 2015 she worked as an Assistant of the Chairs of Introduction to Legal Studies 1 and 2 and Civil Law at the Pontificia Universidad Católica de Valparaíso.
LANGUAGES
Spanish and English.